Infosys introduces Digital Quotient (DQ) for future-ready talent
Infosys introduced the Digital Quotient (DQ) to objectively assess and classify the digital readiness of individuals, teams, and enterprises. DQ is data-driven and provides a comprehensive score — a single, simple metric that tracks the digital maturity of talent.
Digital Quotient helps them traverse a value chain of competence (building breadth and depth of skills), measuring the skills they possess, their proficiency in those skills, their digital exposure in adjacent areas, and their expertise in working on actual projects. Individuals then leverage the competence gained to drive impact and value for teams, clients, organizations, industries, and other stakeholders.
Individuals learn on the job; beyond courses and certifications; as they build new capabilities for the digital world. Infosys conceptualized a digital continuum of learning new skills: building depth and breadth, venturing into adjacent areas, and expertly applying these skills to deliver high-quality solutions and create value to the organization and the industry.
DQ is the vector that employees follow through their learning and career. Competence typically happens at the entry stages. It is about gaining knowledge and exposure to existing and new skills. Impact is the next leap, where employees apply skills to influence clients with the knowledge and experience gained previously. Innovation, effectiveness, and creating an impact through teams are key markers of this midpoint. The leap beyond this is that of generating value. Value includes the core leadership quality of identifying new opportunities of revenue creation, optimum industry positioning, and creating new solutions to generate value for all stakeholders.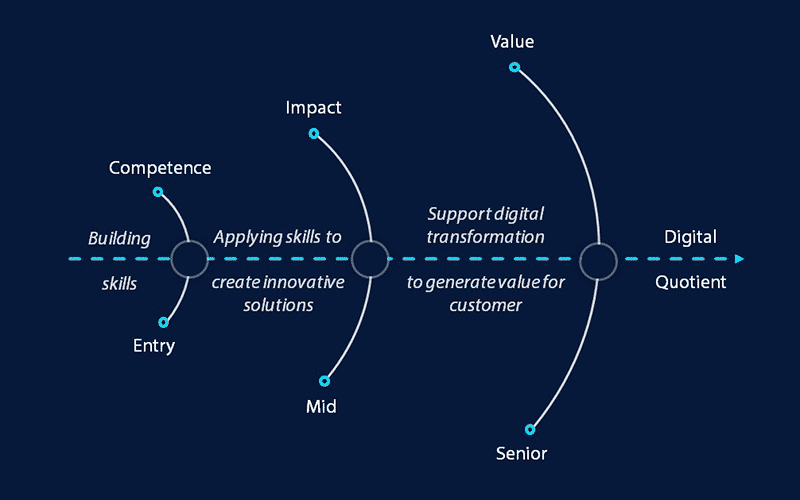 For employees, DQ is a personalized guide through their digital skills and career journey, it continuously measures where they stand in the digital continuum and provides them with a single score as an indicator of their digital preparedness.
Using the score, employees can understand how their skills compare to others and how to be a more competitive candidate. A target DQ score that employees set for themselves serves as a beacon as they navigate their careers toward high-impact technology areas and complex client projects.
At the team and enterprise level, DQ is a strategic tool that can gauge the digital preparedness of the business. It helps enterprises understand their digital capabilities, shows them areas that need to be strengthened, and then tracks their progress in gaining these capabilities — giving enterprises an advantage.
The company said in a statement, "At Infosys, we are building a skills-led organization so that careers, learning, and rewards are all based on skills and are self-navigated. We are identifying which digital areas are accelerating, and we are training our employees to work with these technologies."
"Skills tags are one of the components of this framework; they function like skills badges to identify and nurture reskilled employees who have the required knowledge and expertise. We also provide career avenues for employees so they can specialize in technologies and industry domains as they continue to learn new skills." Infosys added.